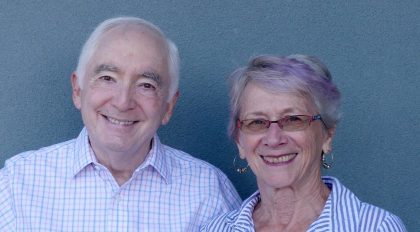 Names: Tanya Mayer & Paul Friedman
Place of Birth: Tanya was born in Kansas, and grew up on a Northwest Kansas farm riding horses, walking board fences, helping to birth and care for animals, driving grain to the local elevators, and writing song lyrics sitting at an old upright piano. A love of freedom and the out-of-doors are still alive in her.
Paul was a New York City boy, living in a small apartment with his immigrant, blue-collar parents (Poland and Russia) and two older brothers. He played on city streets with a few friends who lived on his block, devoured library books, walked everywhere in a growing orbit from his neighborhood to the streets of Manhattan, traveling by public transportation (his parents never owned a car).
When did you come to the Verde Valley and why?
A couple of years after we married, we used timeshare points on a five-day stay in Sedona, a town we knew little about, except for its reputation as being beautiful. We met friendly people who loved living here, enjoyed invigorating hikes, and were also drawn to Unity Church and Jewish Community of Sedona and the Verde Valley. Many factors encouraged us to think of a possible move here, and by day four of our stay, we found a realtor, looked at houses all around the valley and shortly after, put an offer on one. Yes, Sedona fever had struck again and, even now, 17 years later, the effects continue.
Tanya had retired from teaching a couple years earlier, and Paul was ready to retire from the University of Kansas, where he'd taught for 35 years in the Communication Studies Department. We were ready for a new episode in our lives, where we would be closer to Tanya's aging mother in Mesa, some families in California, and could enjoy the mountains and the community. Our 6 children, 13 grandchildren and 4 great grandchildren are scattered across the US. We couldn't be near everyone, and Sedona was beckoning.
What are your religious backgrounds?
Tanya's family was Methodist, and her mother and three children were faithful attendees and active participants in the music and Sunday School programs. As an adult, she's belonged to and held positions in, both Unity and Unitarian congregations.
Paul 's heritage is Jewish, and he's had a lifelong fascination with all the world's religions, has studied and practiced several secular forms of Buddhism (including the Hinayana, Mahayana, and Vajrayana approaches).
What brought you to SUUF?
We were drawn to SUUF's open-mindedness and respect for all traditions, as well as to the inclusiveness, intelligence, and friendliness of the congregation. SUUF feels like a perfect match for us as a couple, given our common values, yet diverse backgrounds.
How does SUUF fit into your spiritual journey?
Tanya says it's so satisfying to be in a community among people whose principles align with hers, who believe in, and are working towards, a world in which each person is recognized as inherently worthy. An added bonus is being inspired by interesting and provocative weekly talks and music which touches the soul.
Paul's journey has involved learning and growing within himself and expanding his understanding of and connections with other people. He's deeply motivated to use his knowledge and skills to engage with the community. He sees SUUF as a fine place for continuing this process of internal, interpersonal, and community development and he values the opportunities to be an active participant in congregational activities. Tanya agrees!
[This article appeared in the SUUF Newsletter for April, 2022]