Our Minister

---
Reverend Anthony Mtuaswa Johnson 
Rev. Anthony Mtuaswa Johnson, Mississippi born, and Chicago bred, is an ordained Unitarian Universalist Minister, speaker, writer, poet, producer, soldier, teacher, mentor and Elder. Son of Abdul Hakim Shareef, founder of "New Medinah," an African American Islamic Village now celebrating over 30 years in existence in southern Mississippi. Grandson of Sam "Lookum" Johnson, so named for his seeming ability to look through his opponent's playing cards. 
Anthony is currently serving as Minister at the Sedona Unitarian Universalist Fellowship in Sedona, AZ. He is the former Minister of the Humboldt Unitarian Universalist Fellowship in Bayside, California and former Assistant Minister/Director of Congregational Life at the Unitarian Universalist Congregation of Phoenix, Arizona. He served his Internship at the Sedona UU Fellowship in Sedona, Arizona and did his CPE at Banner Medical Center, the sixth busiest trauma center in the country. A former counselor of young Black kids on the south side of Chicago, he has also counseled and taught child soldiers in Liberia, West Africa, and taught communication skills in an Illinois maximum security state prison and to ex-offenders in Atlanta, Georgia. Anthony is the proud founder of "Multikulti" an organization dedicated to Multicultural Anti-Racism Workshops and dialogue between Black and White men. His teaching experience includes the U.S. Army Command and General College, the U.S. Army Disciplinary Barracks, Highland Community College, Pontiac State Prison, Lewis University and Columbia College. He is an Initiated member of The Mankind Project, a men's organization dedicated to honoring the Sacred Masculine and is a former United States Army Signal Corps Captain. 
Mtuaswa has played ping-pong with Ted Koppel, produced PSA's with Ruby Dee, Ed Asner, and Mary Chapin Carpenter, utilized his media production skills from Bud-Lite television commercials to the Peabody Award winning Tiananmen Square. As a Computer Animation producer for IBM, The New York International Film Festival recognized his Producer skills for Computer Animation with a Silver Medal. Anthony has also held the position of Director of Production and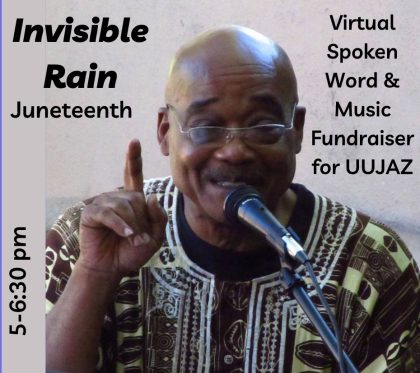 Operations for Black Entertainment Television (BET), overseeing the production of all cable programming. As an independent producer he managed the nationally televised one-hour special; "The 1999 From Whence We Came Awards", hosted by Blair Underwood and Lynn Whitfield, featuring Nancy Wilson and the Mighty O'Jays, which aired to over fifty-million homes.
Recognized as a Master Poet by his peers, Anthony has performed sold-out performances of his one-man show entitled "Spirit Talk", a one-hour blend of original poetry and music sprinkled with ancient and modern wisdom. His CD, entitled Spirit talk, is "Spoken Word for the Rest of Us, That Speaks to the Best in Each of us". Mtuaswa, is also a Practicing Diviner and student in the Dagara spiritual tradition of Burkina Faso, West Africa, as taught by Malidoma Some', one of the world's most famous shamans, whom some refer to as the real Wakanda. He is author of the book of Poetry entitled "What If God Is A Woman?" and is an avid Tai-Chi Practitioner. A Husband, Father, Grandfather, Uncle, Friend and Brother, his autobiography, "Tap Dancing On A Razor Blade, A Brother's Tale," is slated to be released in the Spring of 2024.
His ministry is dedicated to Removing Unconscious Debris from the Soil of the Soul.
---
Minister's Messages