An LGBTQ Welcoming Congregation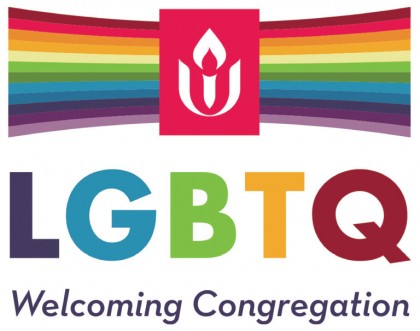 Dear Members of the SUUF Welcoming Congregation Working Group, Congratulations!
I'm delighted to inform you that the Sedona Unitarian Universalist Fellowship's application to become recognized as a Welcoming Congregation has been approved! Sincere congratulations on taking this powerful step, doing collective work to educate yourselves on LGBTQ issues, and committing yourselves to vital ongoing ministry in this area.
It was a pleasure to be able to read about what you have accomplished and the powerful work you have done. I'm always struck when a small congregation such as yours takes on this important mission. This congregation has done the work of becoming a Welcoming Congregation with dedication and purpose. You can be quite proud of your efforts.
I'm pleased to see how visible you've made your support of LGBTQ people. I often say that a congregation needs to breathe welcome from the inside out and from the outside in. LGBTQ people need to know by what they see, hear, and read that your congregation welcomes them. I enjoyed watching the Welcoming Congregation video you produced. It provides a wonderful introduction to your congregation to anyone who might be considering joining you. You also demonstrate your commitment to inclusion through the Welcoming Congregations commitments you've posted on your website, your bylaws changes, the inclusive language you use, the various educational programs you've had, your participation in PRIDE, your work with PFLAG, and your partnership with other LGBTQ organizations in the area.
For a small congregation, you've done an excellent job of keeping LGBTQ equality work at the forefront of your congregation's ministry. I'm especially impressed to read about your formal partnership with Project Jigsaw. This sounds like a vital campaign to overcome the horrendous barriers to creating loving families in Arizona. I applaud these efforts and look forward to hearing more about them. I hope that, in coming years, you'll continue to deepen your awareness and understanding of the complex world of sexual orientation and gender identity inclusion and that you'll work to broaden your understanding to include the intersections of race, ethnicity, class, and ability.
It's important that the congregation understands that becoming recognized as a Welcoming Congregation is a commitment rather than an end point. It is not merely a checklist of things to accomplish. Congregations can lose energy after they see the posters on the wall. The more work you can do to solidify your plans now will make it clear that you're serious about continuing to make your congregation an ever more welcoming one. You have a vital voice in your community and it's important to make sure it stays alive and vibrant.
I hope you'll see the UUA as a resource for you—please be in touch any time if you have any questions or we can be of service or support. I encourage you to visit our website often; we are always adding new resources that will help you on your continuing journey.
You can expect to receive two Welcoming Congregation posters in the mail. In the meantime, you are free to use the new Welcoming Congregation logo on your website and other materials. Also, if you don't have them already, I encourage you to order the new pamphlets: A Spiritual Home for LGBTQ People, available from the UUA Bookstore.
Your congregation will be recognized on the UUA's website soon also. If you have members attending General Assembly in the future, please remind them to pick up Welcoming Congregation ribbons for their badges.
Thanks again for your congregation's life-giving, essential work!
With appreciation,
Annette Marquis
LGBTQ and Multicultural Programs Director