Visiting Us
You are welcome at our services and we hope that you will come visit us.  Many visitors come a few times and stay, having found a spiritual home in our community. You will find us to be a diverse, vibrant, welcoming, and open-hearted community.
Sedona Unitarian Universalists come from many faith backgrounds, or may not have been brought up in any religion. Our shared values and principles guide us in our search to live a spiritually and socially just life. Our inspiration comes from lived experiences, sacred texts, poetry, philosophy, music, nature and the lives of our forebears who stood up for social justice.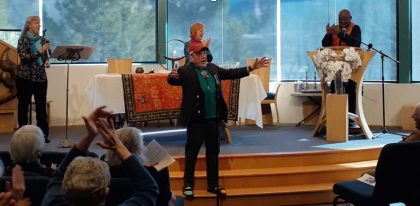 We also believe in the inter-dependent web of existence and appreciate the sacred and the scientific thread that exists in all of life.
Our members choose Unitarian Universalism as their spiritual community because together are stronger to create the changes we want to see in our lives, our communities and our world. We are officially designated as a "Welcoming Congregation" which speaks to our inclusion of all gender expressions and sexualities as we gather to nourish and encourage each other.
We change lives for the better. These testimonials from participants speak to the acceptance, transformation, and happiness we find at Sedona Unitarian Universalist Fellowship.    
As you explore our website feel free to contact us with your questions. We look forward to meeting you.
Related Information:
     Visitors' Practical Information
"We Are Unitarian Universalists" video
To understand and perhaps answer some of the questions you may have, such as: What exactly is a Unitarian Universalist? What do they believe in?…enjoy this video: