Music Director
Susanna Martin:
"The message is in the music"
Susannah Martin's "music ministry" with SUUF is a wondrous expression of the power of music to touch and heal hearts, minds and souls and to build community. Rousing singalongs, soaring solos, deep-rooted spirituals and chants, and top musical artists of the area are all features of our special music at SUUF. While traditional UU music is regularly included, SUUF services highlight well-known songs of the classic pop, rock, r&b, swing and musical theatre genres. Each week, our music director and minister find "the message in the music," and choose songs to enhance our service themes and sermon topics.  UU values such as freedom, compassion, diversity, gratitude, and support are included in our music choices.
Susannah has always been drawn to the positive and healing powers of music. Her performing arts education began as a child in San Diego, CA and continued in college with a degree in classical and jazz voice and music therapy. She furthered her humanitarian quests by serving music non-profits – running community choirs, music festivals and youth education programs, and through her own voice. As an acclaimed Arizona vocalist with numerous bands, she is beloved for her beautiful singing in classical, jazz and popular styles. Susannah has served as music director and singer for the Sedona Unitarian Universalist Fellowship (SUUF) since 2014.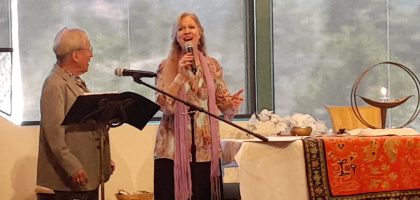 How wonderful it is for us to experience, together, the spiritual power of music, the beauty of the art, the meaningful messages that find our hearts and souls, and the bonds we nurture through our beloved community!
For more information about Susannah Martin, please visit SusannahMartinMusic.com