Community Outreach Committee
This three member committee, established by our bylaws, identifies community needs that congregants actively work to support. 
Projects for 2023-2024
1. We volunteer at Manzanita Outreach in Cottonwood on October 12, from 9:30-Noon, and again in February. This organization works to feed people throughout Yavapaii County.
2.
We are sponsoring a
"
Worthy Now
"
project led by Paul Friedman to write letters to UU's behind bars. 
Did you know the largest UU congregation in the world (with 3,500 members) is the Church of the Larger Fellowship (CLF). These folks are UUs, like us, who lack access to an in-person congregation. Most are home-bound or live in rural areas or abroad. About 1,600 are incarcerated. Some were UUs before they were locked up, but most learned about UU through UUA's Prison Ministry Network, sponsors of the "Worthy Now" Program.
Worthy Now affirms UU's first principle: "the inherent worth and dignity of every person," regardless of whether that person is free or imprisoned. Everyone is worthy of love, respect, and support as they are, right now. To sustain their UU spirit, Worthy Now sponsors a correspondence or "pen pal" program between a free and an incarcerated UU. They match the pair of participants, and ask them to exchange about one friendly letter per month, for at least six months, using a very carefully controlled process.
Both men and women participate, but there can be no romantic, legal-aid or financial / gift interactions. Want to learn more about Worthy Now? Check out the CLF at https://www.questformeaning.org/clfuu/ and https://www.facebook.com/CLFUU–and the Worthy Now program at https://worthynow.org/. Still Interested? Email me at sedonapaul@gmail.com, call me at 928-399-0904  Let's chat.
3.We join the JCSVV Mitzvah Day Project on October 29, at 12:30 to perform needed community projects in the Verde Valley.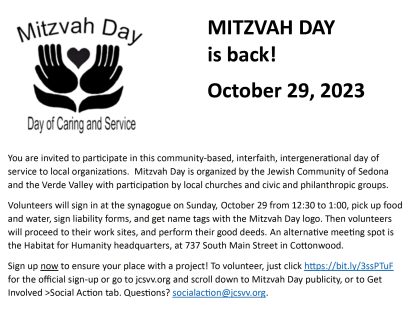 4. SUUF and JCSVV will work jointly in March and April to collect items for summer survival kits for the homeless population in the Verde Valley.
Outreach Projects for Fiscal Year 2022-2023.
–Collection for Sedona Area Homeless Alliance (small toiletries and plastic bags).
–Support of Hope House, a home built to help homeless families with children in Sedona. SUUF has provided supplies to furnish Hope House bathrooms and provide toiletries, and will continue its support in new ways in the upcoming year. Stay tuned for ways to contribute and to help alleviate the problem. At any particular time, there are 20-30+ homeless children in the Sedona public schools.
–Two Manzanita Outreach Volunteer afternoons were well attended by SUUF and contributed to their effort to feed people.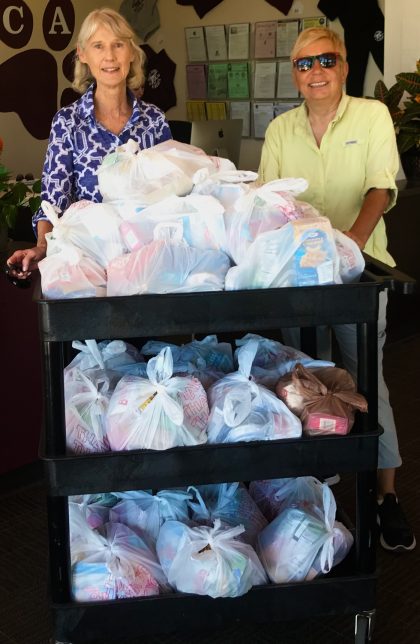 –In coordination with Sedona Food Bank, congregants donated drinks and snacks for Sedona West Elementary School's after school program. We plan to continue this in '23 -'24  by collecting donations in January.  Volunteers also assisted the Food Bank's Backpack Program by packing bags of food which were delivered to local Sedona Schools and placed in the backpacks of qualifying students. Each food pack contains enough food to feed a child over the weekend. We will continue this effort, volunteering onThursdays in April and May of 2024.
–Money was collected for two organizations which offer support to Ukraine.
–A collection was taken to help The Yavapai-Apache Youth Council raise money to send 15 youth to the national conference of United National Indian Tribal Youth (UNITY).