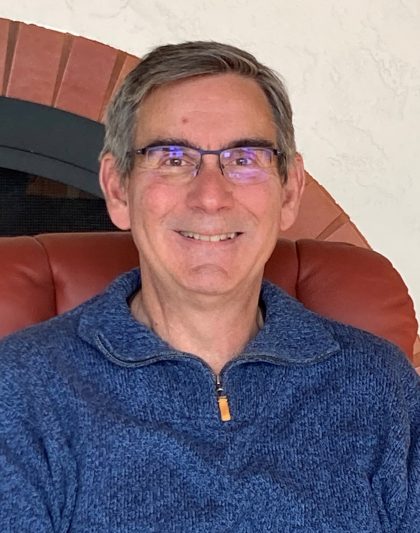 Name: Gary Stewart
Place of Birth: Elgin, Illinois
When did you come to the Verde Valley and why?
My first visit to Sedona was in March 2003. Visiting my parents in Sun City, we did a day trip to Sedona, and I got my first Sedona tee shirt (Red Rocks State Park). After my mom died later that year, Mary Jane and I started visiting my dad almost every year. During those visits, we'd borrow Dad's car and head up to Sedona for a few days. In 2013 we did the Sedona realtor thing and bought a house, planning to move to Sedona down the road. The move happened in September 2018, Mary Jane by plane, Oliver (the cat) and me by car.
What is your religious background?
My mom was religious, frequently attending church, my dad wasn't/didn't. Mom picked a church because she liked the pastor. Mom picked a Lutheran church and us five kids went thru the two-year confirmation process in 7th and 8th grades. The first four older kids, some more than others, continued going to church during high school, participating in the youth group. For me, going to church from my early twenties on was limited to weddings, baptisms, confirmations, and funerals.
What brought you to SUUF?
The move to Sedona didn't mean I wanted to retire. It took a half a year to find employment. From October 2018 on I was pretty bored, looking for things to do. I met Ben Shor to learn QuickBooks. That led to weekend hikes with Ben and Ben told me about SUUF. Mary Jane and I went to a service in early 2019.
How does SUUF fit into your spiritual journey?
My view of religion is community; loving and caring for one another, easy to say, hard to do. I don't believe in one God version over another. And, I like music. The first service I attended, Susannah's sister and brother-in-law performed the music. SUUF works for me because it's non-denominational and I get to be with others as part of a spiritual practice.
[This article appeared in the SUUF Newsletter for September, 2022]