We celebrate the Winter Season of 2022 by recognizing the Holidays of Christmas, Hanukkah and Kwanzaa. We celebrate Hanukkah on December 19tt, through December 26th. We recognize and honor Kwanzaa from December 26th through January 1st. And on this Sunday, we celebrate Christmas Day. Join us, as we Unitarian Universalists recognize and honor these holidays and Holy Days in our Living Tradition.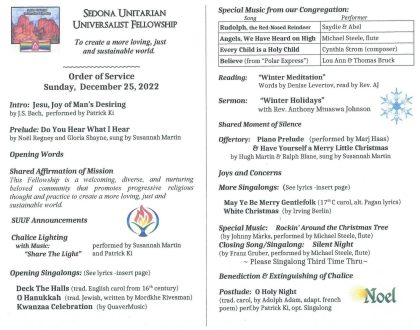 The bare trees have made up their seed bundles. They are ready now.
The warm brown light pauses briefly; shrugs and moves on.
They are ready now to play dead for a while.
I, human, have not as yet devised how to obtain such privilege. Their spring will find them rested,  I and my kind battle a wakeful way to find ours.
Denise Levertov
This in-person service was abundant with cheer and music, featuring special musical offerings by our Fellowship members, including our musician Susannah Martin. It was held in the sanctuary at the JCSVV, located at 100 Meadowlark Drive.
******
Based on recommendations from our Covid Safety Response Team, the Board agreed to ease the requirement for wearing masks during our in-person services, beginning last month. This also applies to making announcements and expressing Joys and Concerns from our community microphone. You may read their complete report here, Thank you to everyone for being aware of the ongoing risks and for doing everything possible to protect yourself and others.
Previously-recorded services from September 2020 through April 2022, as well as more recent services from Fall 2022, continue to be available for viewing on our YouTube channel and may be easily accessed from the posting for that week's service.