Our sermon topic is "The Beauty of Individual Differences," the title of an article written years ago by Kiana Dicker. It is the story of famed sculptor and departed member of our Sedona Unitarian Universalist Fellowship, John Waddell. The title also frames my belief in the beauty of individual differences as the basis for our longing to be more inclusive.
This in-person service was held in the sanctuary at the JCSVV, located at 100 Meadowlark Drive, and featured Robin Miller as our guest musician.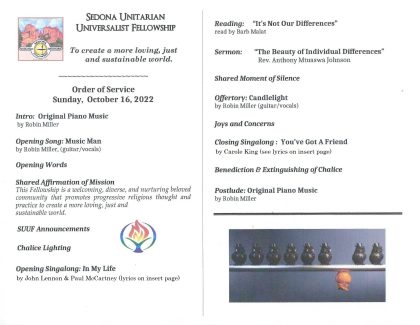 "It is Not Our Differences"
"It is not our differences that divide us. 
It is our inability to recognize, accept, and celebrate those differences." 
– Audre Lorde