Today's talk is entitled, "Love In Action," a sermon calling our Unitarian Universalist Principles, Sources and Purpose into view. As Unitarian Universalists we honor our "Living Tradition" by committing to an ongoing examination of where we are as a faith, what we believe, and how to change what needs to be updated and or changed. This we do guided by our commitment to the democratic process and ultimately determined by our congregations and their representatives.
"Never forget that justice is what love looks like in public." — Cornel West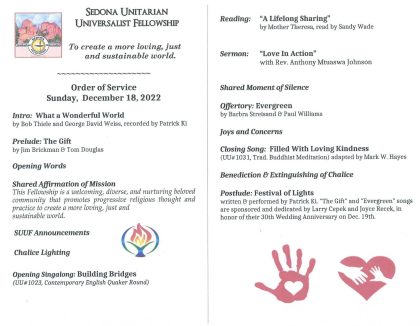 Love cannot remain by itself – it has no meaning.
Love has to be put into action and that action is service.
Whatever form we are, able or disabled, rich or poor,
It is not how much we do, but how much Love we put into the doing.
A Lifelong sharing of love with others.
Mother Teresa
This in-person service was held in the sanctuary at the JCSVV, located at 100 Meadowlark Drive, and featured live singing by our musician Susannah Martin.
******
Based on recommendations from our Covid Safety Response Team, the Board agreed to ease the requirement for wearing masks during our in-person services, beginning last month. This also applies to making announcements and expressing Joys and Concerns from our community microphone. You may read their complete report here, Thank you to everyone for being aware of the ongoing risks and for doing everything possible to protect yourself and others.
Previously-recorded services from September 2020 through April 2022, as well as more recent services from Fall 2022, continue to be available for viewing on our YouTube channel and may be easily accessed from the posting for that week's service.