Our lawmakers, parents, many think tanks, and conservative pundits continue to wage a war over how to teach students about systemic racism. These activists and lawmakers have centered much of their anger on a framework called Critical Race Theory. This sermon will clarify that CRT is a body of legal scholarship from the 70s and 80s that says racism is not just a result of individual prejudice, but something embedded in the legal system and in government policy.
*****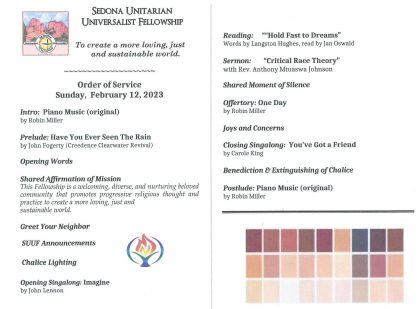 "Hold Fast To Dreams
For if dreams die
Life is a broken wing bird
That cannot fly.
Hold fast to dreams
For when dreams go,
Life is a barren field,
Frozen with snow."
  — Langston Hughes
*****
This in-person service was held in the sanctuary at the JCSVV, located at 100 Meadowlark Drive, and featured recorded and live music by our guest musician Robin Miller (scroll down to see a clip).

Wonderful seeing so many faces today – both familiar and new!