What is an Awakening? Might it be reading a few words from a wisdom source, like the Buddha? "Thousands of candles can be lighted from a single candle, and the life of the candle will not be shortened. Happiness never decreases by being shared." Are we, as individuals and as a society in an Awakening now? This week's talk will ponder these and other questions surrounding the meaning and the presence of an Awakening.
This in-person service took place in the sanctuary at the JCSVV. Due to technical difficulties, we regret that we are unable to provide a recorded version, but we are grateful to provide this excerpt from Rev. Anthony's message.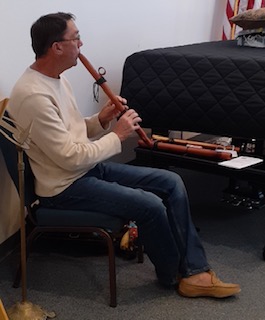 We would like to express our appreciation to SUUF friend Rick Gnerich, our guest musician for today's service who performed several Native American flute melodies, and for his generosity in donating many copies of his "Dream Time Lullabies" CD for the benefit of our Fellowship.
With Rick's permission, we invite you to enjoy a sample of his beautiful flute playing, as we look forward to hearing him again in the future.
For everyone's protection during the ongoing pandemic, we continue to adhere to several safety protocols against transmission of the Covid-19 virus, including the wearing of masks and social distancing. Please visit the "Home" page on this website for complete details prior to attending our in-person services (displayed under "Recent News").