This Sunday's Sermon honors our Unitarian Universalist seventh principle; "Respect for the Interdependent web of all existence of which we are a part." We shall remind ourselves that every action that we take effects everything around us and beyond. That our perceived separation is just that, a perceived and learned construct. This construct is not found in science, nor in Nature. In these places, one element always effects the other. So, is true for us. We will examine and expand our understanding of and our interdependence on each other and our effect upon all things.
This in-person service was held in the sanctuary at the JCSVV, located at 100 Meadowlark Drive, and featured live singing by our musician Susannah Martin.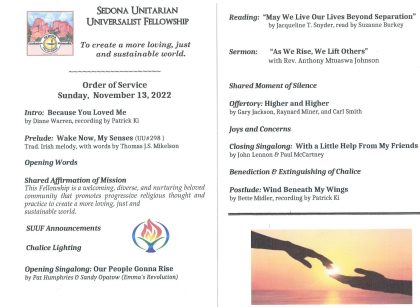 "May we live our lives beyond separation, knowing that nations and cultures are made up of individuals. May I be as one who rethinks my life, my actions and my aligns to  the glory we are all capable of. May I follow where I am spiritually guided, and embrace what is new that is of Love. May love flow through me and lend my individual life and light toward a better world."
                     – Jacqueline  T. Snyder
Based on recommendations from our Covid Safety Response Team, the Board agreed to ease the requirement for wearing masks during our in-person services, beginning last month. This also applies to making announcements and expressing Joys and Concerns from our community microphone. You may read their complete report here, Thank you to everyone for being aware of the ongoing risks and for doing everything possible to protect yourself and others.
Previously-recorded services from September 2020 through April 2022, as well as more recent services from Fall 2022, continue to be available for viewing on our YouTube channel and may be easily accessed from the posting for that week's service.