Service Projects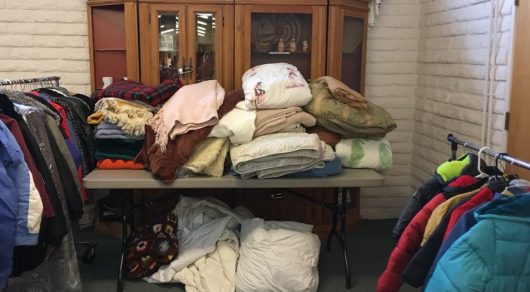 The Manzanita outreach project ( manzanitaoutreach.org). SUUF has participated with the annual food packing day at the Cottonwood fairgrounds for the past several years. This is a fun event where we work in teams to package bags of rice, beans and seasoning,  which are sent to children in Haiti, Native American tribes, victims of natural disasters and food insecure neighbors in Arizona. Since their inception in 2011 over 2 millions meals have been packed and sent to help these causes. The packing day in October 2020 is currently cancelled due to Covid 19,  but we will let you know if another date is set later in the year or in 2021.
Backpack  Program –  This is organized by Sedona Food Bank and SUUF volunteers go to the Food Bank and pack bags of snacks and food for the food insecure children in Sedona schools so they will have food for the weekends. It takes about an hour to pack the bags and then we deliver them to West Sedona school where they are distributed to the children. This year we are volunteering for 7 Thursdays in September and October and have filled the volunteer spots. If you are interested in being a backup please contact Cora Shor at corashor@gmail.com.
Winter coat and blanket drive – Last year we were asked to help gather winter coats, blankets, hats scarfs and other warm clothing items  to be distributed by St Andrew's Episcopal church at the community dinner in December. The goal was to have coats for all the homeless children in Sedona. We had such a great response in combination with other churches and groups, that it was extended to all the homeless people in Sedona and Verde valley, SUUF contributed 2 car loads of itms and also raised over $300 dollars in cash. We are waiting to hear if this event will be repeated this year. Stay tuned.
The Hope House – ( hopehouseofsedona.org)  The Church of The Red Rocks has spearheaded a plan to purchase land and build a house in Sedona as transitional housing for homeless children and their families from the area. They applied for and have received a HUD grant and with the help of the City of Sedona have now purchased land close to Bashar's in Sedona. The terms of the grant require that the project be up and running by June 2021 so there is much work to be done. A fundraising goal of $ 100,000 has been set to complete the building and running costs for the first year. Penny DeJarnette is on the Hope House of Sedona Interfaith Partners Alliance and will be putting updates in the SUUF newsletter with items needed and volunteer opportunities as it becomes clearer what we can do to help this worthy cause. If you are interested in becoming involved with this project please contact Penny at ptpenny61@gmail.com.