Name: Pat Kopitke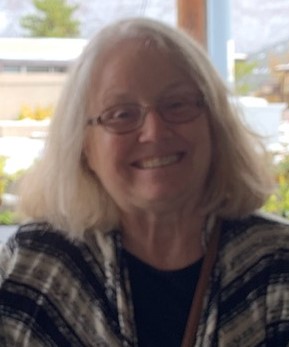 Place of Birth: Chicago, Illinois
When did you come to the Verde Valley and why
My husband Gary and I first visited the Verde Valley during a winter getaway in February of 2011. As lifelong Midwesterners, we were taken with the diverse scenery and climate of Arizona and particularly the beauty of Sedona's Red Rocks, never mind being outdoors in shirt-sleeves in the middle of winter. We spent a few days here the following January after checking out Tucson & southern Arizona, and decided that living in the Sedona area was for us. We moved into our home in Village of Oak Creek after retiring in 2013, and have never looked back.
What is your religious background?
I was baptized and raised Roman Catholic, with 12 years of Catholic school education that followed me into my adult years. My husband was raised as a Lutheran.
What brought you to SUUF?
I had been mostly comfortable with the Catholic faith, and attended St. John Vianney church after our move to Sedona. But at this point in my life, I considered expanding my horizons and visited a few other churches in the area. Driving up Route 179 on Sunday mornings, I often noticed the sign for UU services. I gave it some thought, though I had no familiarity with Unitarianism. I signed up for Susannah Martin's email after attending one of her concerts in the fall of 2014. Discovering that she provided the music for Sunday services, I was encouraged to try it out in early 2015, and found myself returning again and again.
How does SUUF fit into your spiritual journey?
Reverend Glenn's words of welcome at the beginning of each service really said it all for me. I am inspired by the monthly/weekly themes that focus on social justice, the world around us, and so much more that I didn't find represented in my previous church experiences. I attended the "history class" in 2015, which was very informative, and I had looked forward to a refresher sometime. I've felt a closeness to this community in the time that I've been participating with the fellowship and have made more friends than I could have imagined.
Update December 2020
This was originally printed in our December 2017 Newsletter. I officially joined SUUF as a member on January 21, 2018. During my time with SUUF I've enjoyed being involved with the annual auction event, weekly Coffee Hour, and participating in social justice activities, service projects, and social activities with others in our SUUF community. I've served as a member of the SUUF Board of Directors since Sept 2018.
Post-script
We had traveled back to the Midwest for the birth of our grandson Max in December, 2018. We were delighted to be grandparents and enjoyed visits from Max and his parents during the following year. Gary passed away unexpectedly in March, 2020. The support and friendship of those in our fellowship have helped to make it an easy decision for me to remain in Sedona in the years ahead.