Learning
SUUF provides opportunities to explore, reflect and learn within our nurturing, spirited community, allowing us to connect with peers and people of differing ages on a deeper level. Many programs incorporate social justice, worship involvement, fellowship and fun. Shown below are photos from an in-person learning session held in recent years.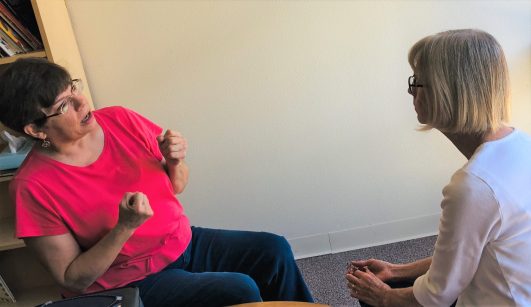 In-person learning was suspended with the arrival of Covid-19 and related restrictions in 2020-21, though we were able to continue offering workshops and similar gatherings online through Zoom, when that tool became available to us.
In January 2022, a small group gathered in person for a workshop entitled "Racial Justice and Collective Liberation" which Rev. Anthony featured in his newsletter article the next month. Our "Widening the Circle" Film Series was introduced a short time later for group discussions – on Zoom and in person – of a recommended film or other video to download each month related to marginalized groups within today's society. Themes covered from late winter through the rest of 2022 and into 2023 have included LGBTQ issues, aging, racial justice, native Americans, homelessness, the plight of migrants & refugees, and body image issues. The discussion on the issue of aging led to the development of another discussion group "Exploring Elderhood" with home-based meetings that began in late spring 2022. The "Widening the Circle" was further expanded to include a Book Discussion group. Our newly-acquired "Owl Technology" has allowed participants to join the in-person discussion remotely through Zoom as an option. The discussion schedule for all 3 of these sub-groups can be found in each monthly SUUF newsletter.
We will continue to offer these opportunities and more during the coming year(s) to keep the spirit of learning alive in our Fellowship and to foster our growth as a vital congregation. Find out more details about what's currently available under this listing of Classes and Discussion Groups.