This Sunday's Coffee Hour on Zoom, following our virtual Service, provided a reunion opportunity between folks who have attended our in-person services during the past 7 weeks and those who have opted to watch our recorded versions during this continued uncertain time of pandemic.
We look forward to offering similar opportunities for everyone to connect virtually during the coming months.
A few announcements …
Next Monday, Nov 1, is the deadline for submitting any articles or updates for the November Newsletter. Please send them to Michelle Snyder at editor@sedonauu.org using Times New Roman font, size 12.
A SUUF friend who lives in Cottonwood would like to attend our in-person services, but can no longer drive. If you are able to provide occasional transportation for her, please send Pat a message at admin@sedonuu.org. We'll put you in contact with each other to make any arrangements.
Susannah and Reverend Anthony are looking for SUUF poets and poetry readers to participate in our November 14 Service "Poetry as a Spiritual Practice". If you would like to submit a recording of your poem, or read someone else's poem, details may be found at this posting under "Congregational News" on our website. The deadline to sign up is November 5.
Ruth Waddell will participate in next weekend's "Open Studio" event, to be held Fri Oct 29 through Sun Oct 31 (10-5 daily). She appreciated all the help from SUUF people at her studio last spring, and is in need of volunteers who can spend a few hours to keep an eye on things. This is also a chance to experience John's sculptures and the art that Ruth continues to create. Please call her (928-634-4941) to schedule a time to help. By the way, much of her work is still on display at the Sedona City Hall, along with several other Sedona women artists. Find out more information about it by clicking here. You can also see one of her watercolor paintings on display at the Sedona Art Center uptown.
Marj Haas, Paul Friedman, and Ann Crosman are again facilitating courses at OLLI for the Fall 2021 term which begins next Monday, Nov 1. Be sure to check out the OLLI Catalog and register soon at this link.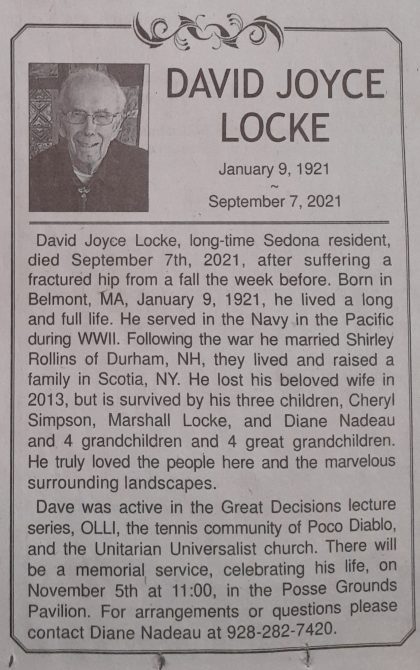 Diane Nadeau provided information about the Memorial for her father David Locke, a longtime and beloved SUUF member. It will be held on Friday November 5 from 11 am – 12 noon at the outdoor Posse Grounds Pavilion. Seating isn't available there, so Diane suggests bringing a chair if you wish.
This copy of David's notice is taken from last Friday's issue of the Red Rock News.
Michael Steele shared that he has started creating "mandalas". You can find more information on his website peacefulportals.com.
Alan Gore mentioned that he looks forward to sharing photographs from his most recent trip to eastern Europe, which will be posted on his website alangorepix.com.
An impromptu discussion took place during the second half of our coffee hour. Many thanks to everyone who participated and to Marj Haas, for graciously moderating this conversation.