Rev Robin's sermon and readings on Sunday March 28, about "UU as Jazz", along with all the great music that Susannah managed to fit into it, resulted in an exciting and different service for many, especially our jazz aficionados. A lively discussion about a variety of music programming that's available for viewing followed, including a documentary on "Aretha" and "Sound of Metal".  Barbara W. highly recommended a book called "Leadership Jazz" by Max DePree, the author of several books on leadership.
Human Rights was the focus in one of the breakout room discussions, with mention of the HRC (Human Rights Campaign) website's short video about Women's History Month and the film "Blood Memory" about adoptions involving Native American children (on PBS).
Easter Sunday April 4, featured a sermon/presentation by Janine Gelsinger of UUJAZ about Dreamers. It was pre-recorded and shared live as a Zoom service, and Susannah has added it to our YouTube channel. If you haven't viewed it yet, you can find the link for that day on our website, under "Past Worship Services" on the "Worship" tab. We probably had the most in-depth discussion of the year during our Coffee Hour, with Janine joining us for an extended Q&A session on this important issue and offering suggestions for getting involved, Later that day she sent a letter summarizing much of that information, which we passed along to our Members and Friends.
Our service on Sunday April 11 (Stewardship Sunday) with Rev. Robin's sermon about "Two Copper Coins" was very well-received. All Members and Friends should have received an email with our Proposed Budget for the coming year (FY2021-22) and details on how to respond to our current Pledge Drive. Be sure to email SUUF Treasurer Tracy Young (Treasurer.SUUF@gmail.com) with your pledge by Sunday May 2. If you haven't received that message or may have overlooked it, please notify Pat Kopitke (admin@sedonauu.org) so that we can email it to you directly.
As mentioned during each of the previous weeks, the Sedona Visual Artists' Coalition will hold their Spring "Open Studios" event the weekend of April 23-25 (10 am–5 pm daily) and Ruth Waddell will  participate. Visit this link for a list of the participating studios, including a map for this year's event. The studio which Ruth shared with her husband John is listed as studio #26. Ruth would very much appreciate having volunteers who can provide on-site assistance in the studio and to help direct parking for each day of the event. You can contact her by phone (found in the SUUF Directory) or contact Pat Kopitke to obtain the number.
A few other events happening in the week ahead:
Spectrum Healthcare is holding a one-day clinic for COVID vaccine (Moderna) in Village of Oak Creek on Wed April 21 from 10 am – 2:30 pm. Appointments may still be available. Find out more by clicking here.
Also on Wed April 21, we learned that a neighborhood meeting will take place at the Methodist Church (Route 179 at Back O' Beyond) to address the current traffic & parking situation affecting many of the local trails, including Cathedral Rock.
Thurs Apr 22 is Earth Day! Check out this fun parade to celebrate the day!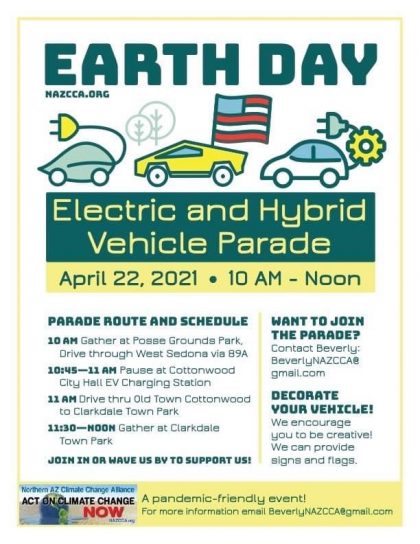 We continue to enjoy gathering with many of our "regulars" each Sunday and seeing new faces (and hearing their voices, too). Hope to see everyone there – or in person – before too long.
Please keep in mind many among us who have been feeling under the weather or having surgery or other procedures that were delayed due to the pandemic. We are sending all of you "light and good energy".
Finally, note that the deadline for the May newsletter is approaching in just a week. Be sure to send any updates to Michelle Snyder by Monday, April 26.